FARMING
Become a land owner in the Bunderworld and rise in the ranks of the Bad Bunnies Elite.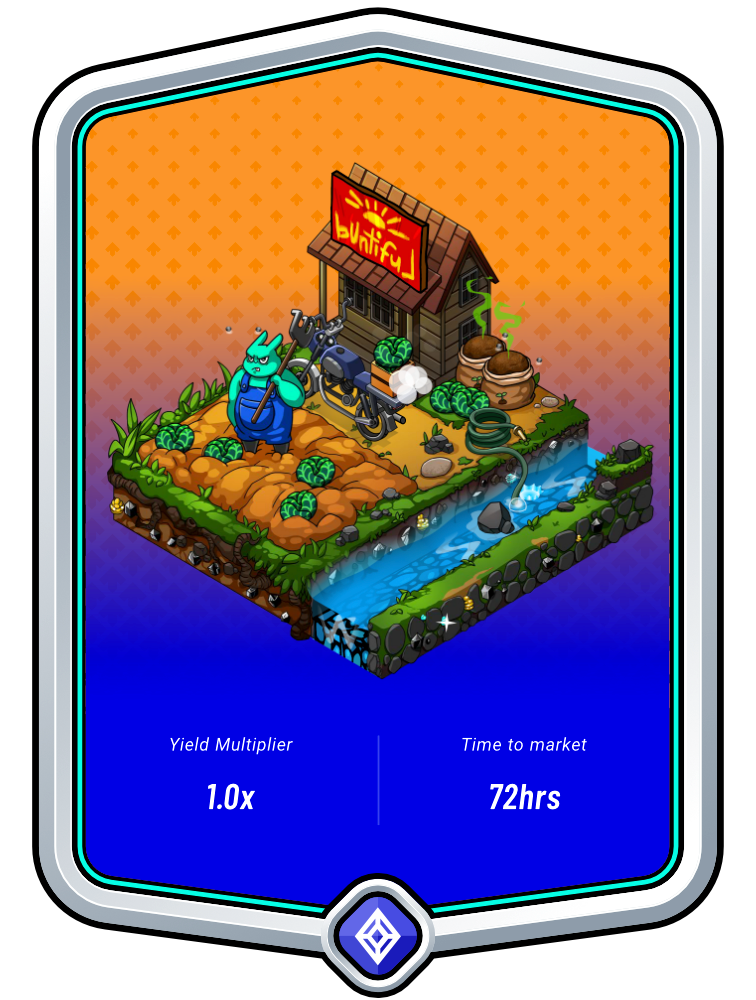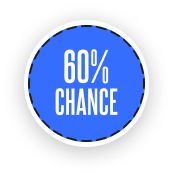 RARE LEVEL

FARM

In the distant corners of the Bunderworld, hillbilly bunnies farm the land with their trusty hoes... and 💩 lots and lots of 💩 .
Yield maximiser 1.0x
Time to market 72hrs
Abundant fertiliser 💩
Low water supply
Chance to drop Onyx Shards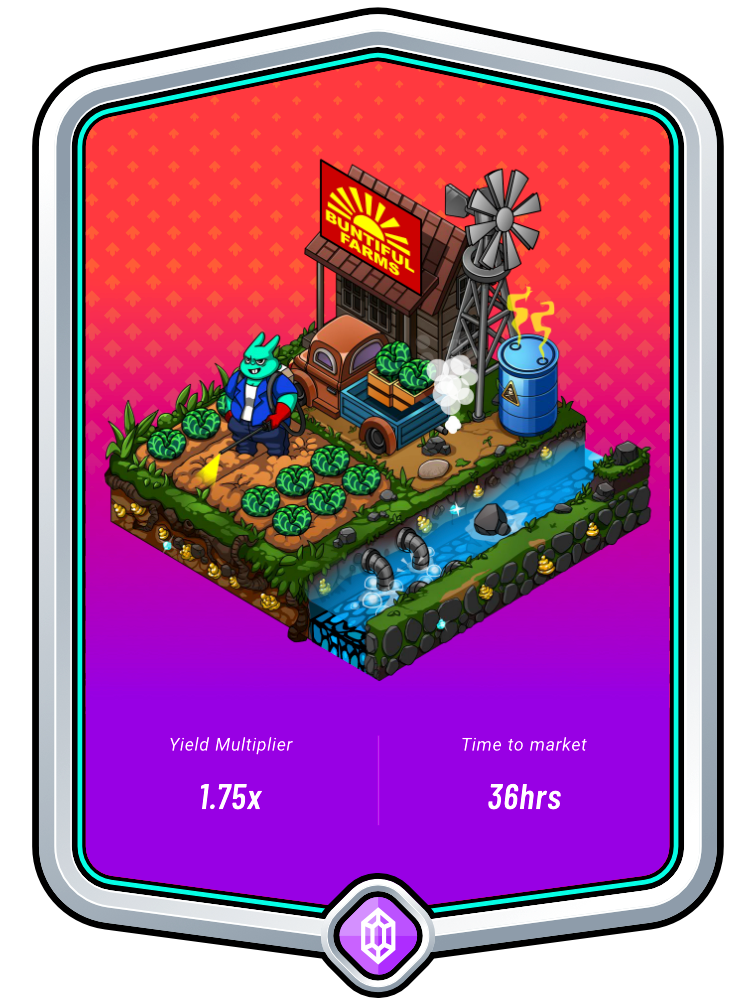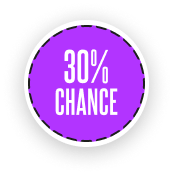 EPIC LEVEL

FARM

These farms are a cut above the rest, providing the freshest produce, pulling no punches with the local wildlife - these fearless farmers spray first and ask questions later!
Yield maximiser 1.75x
Time to market 36hrs
Abundant pesticide
Moderate water supply
Chance to drop Gold Nuggets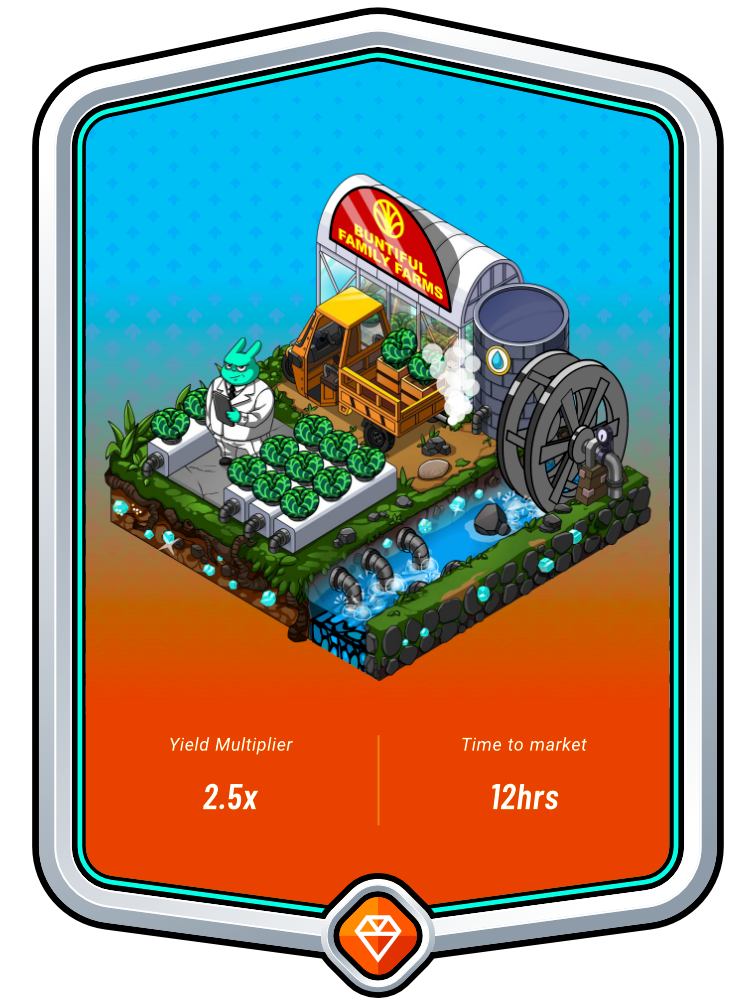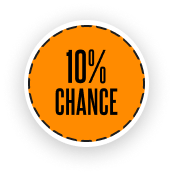 LEGENDARY LEVEL

FARM

Joining these legendary farmers at the heart of the market district will give you a competitive edge. These farms are the cream of the crop, perfectly commercialized and managed for success.
Yield maximiser 2.5x
Time to market 12hrs
Infinite water supply
No need for pesticide
Chance to drop Uncut Diamonds
Bonus Scarecrow Card
MANAGE WEATHER & PESTS

TO KEEP YOUR FARM AT MAX YIELD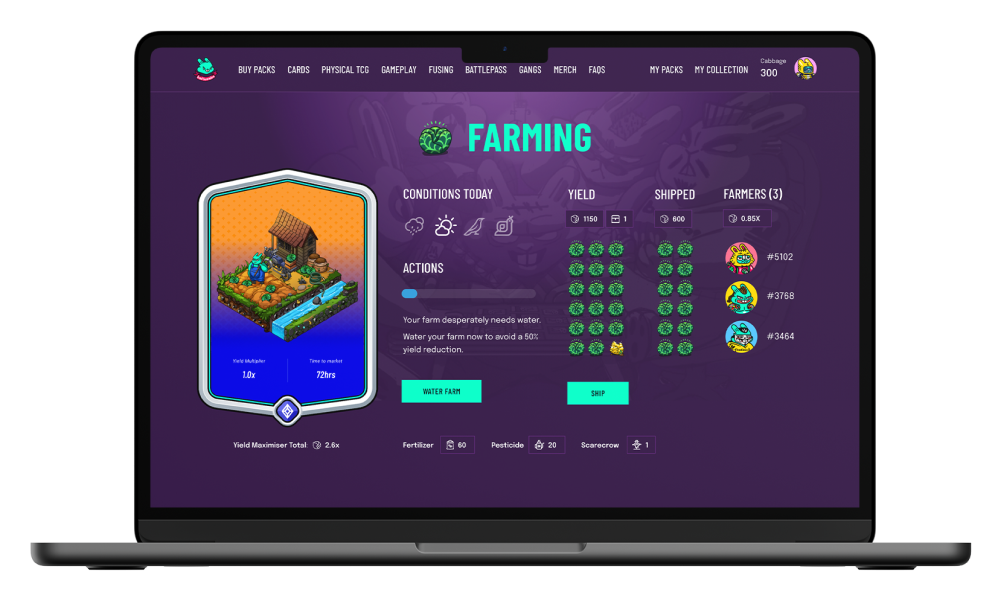 Manage the conditions on your farm to keep it at maximum yield. This includes dealing with beating sun, devastating storms, annoying pests, and other challenges. Stock up on fertiliser, pesticide, and scarecrows to help keep your farm running smoothly.
Fail to manage your Farm and you'll risk a visual downgrade and yield drop. But don't worry, you can always recover with a little hard work.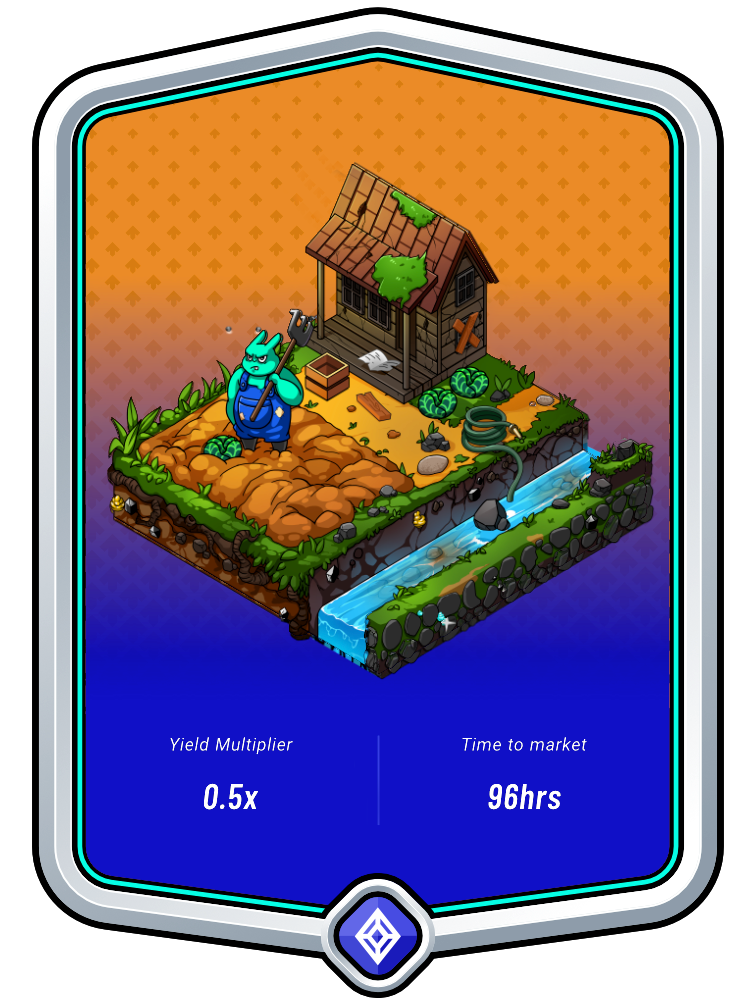 A downgraded Rare Farm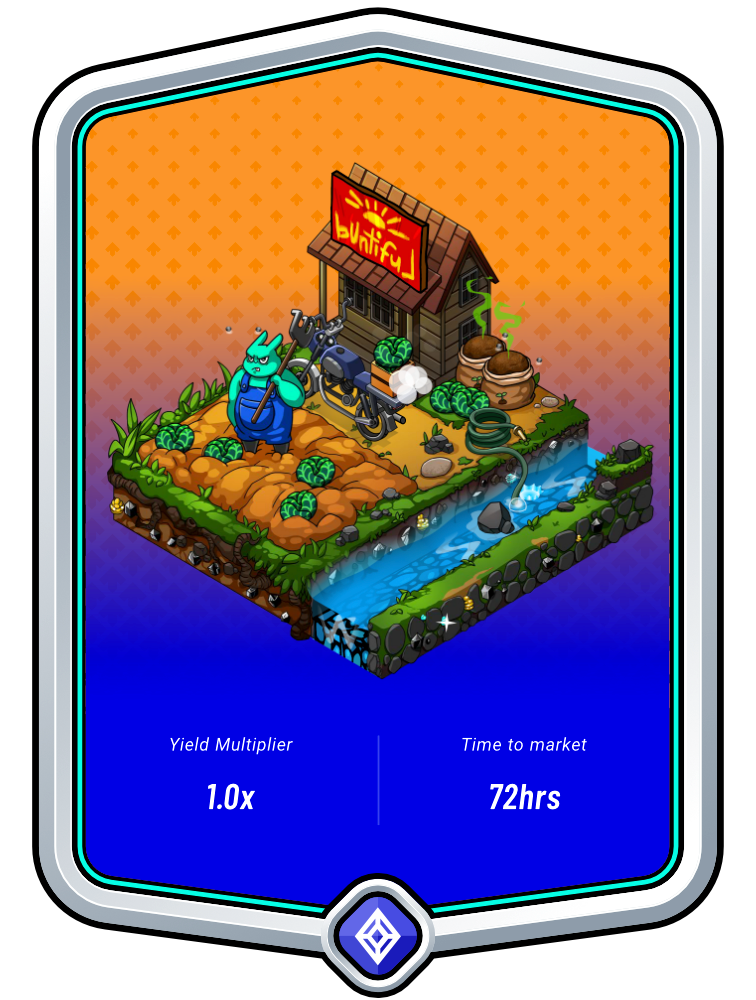 A healthy, thriving, Rare Farm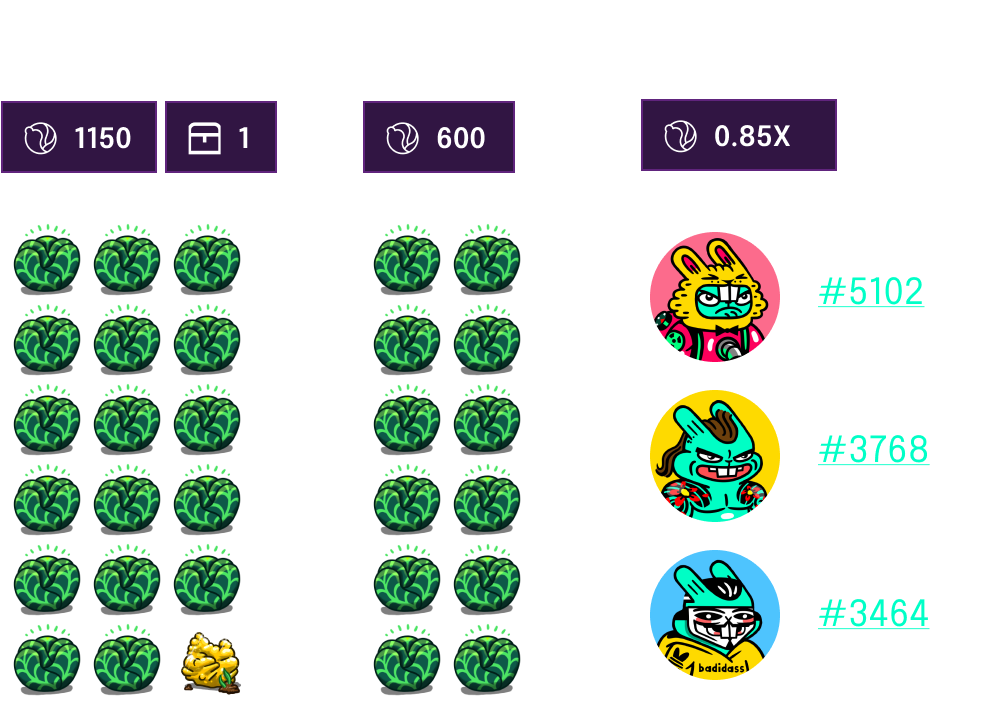 PUT YOUR OG BAD BUNNIES

TO WORK ON THE FARM
Stake your OG Bad Bunnies and put them to work in the soil. Maximise your Farm's yield with the best Bad Bunnies you can field. The higher the rarity score of your bunnies, the greater the yield maximiser. And remember: you must have at least one OG Bad Bunny to start producing Cabbage on your farm.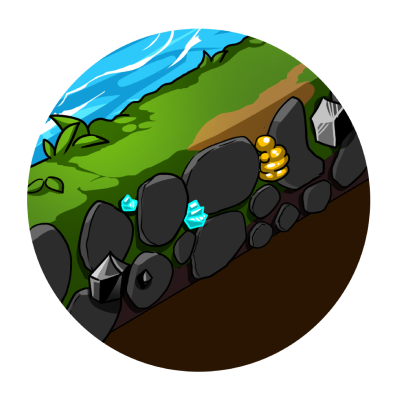 MINE YOUR FARMS FOR

ONYX, GOLD & DIAMONDS
Once your farm is producing, mine it for precious gems like Onyx Shards, Gold Nuggets, and Uncut Diamonds.
The precious gems will will allow you to cut corners when Fusing as well as purchase special items reserved just for precious gem trading.
Just make sure to pick up a Pickaxe from the Cabbage Shop first or your farm won't produce gems.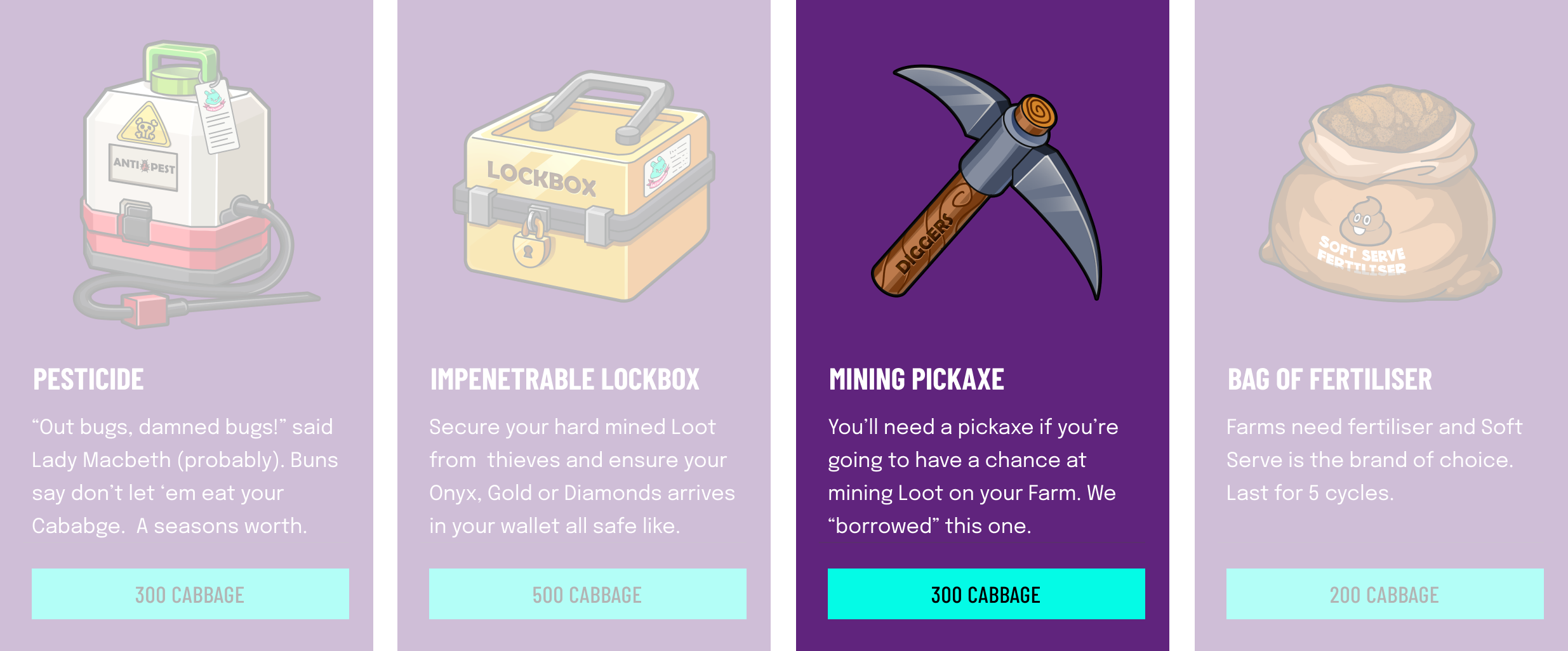 SHIP CABBAGE TO YOUR WALLET

BUT WATCH OUT FOR HIJACKERS!
Farmers must pack and ship cabbage to receive it in their wallet. But watch out! Hijackers can stake their own OG Bad Bunnies and intercept shipments in transit. If they succeed, they can claim a percentage of the cabbage for themselves. Whether farming or hijacking see if you can outsmart your opponents and come out on top.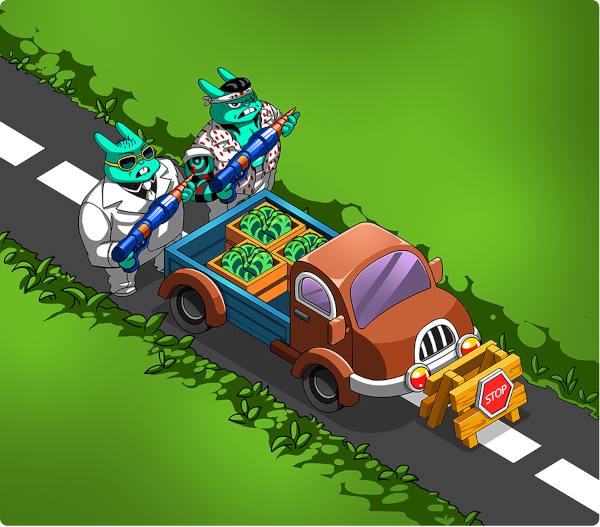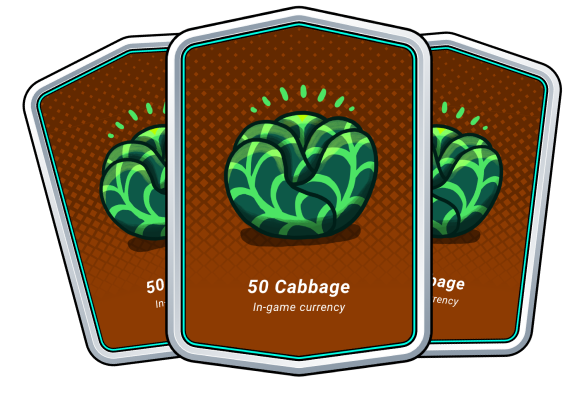 DRIVE THE BAD BUNNIES

GAME ECONOMY
Exclusive access to drops, specials, trinkets, weapons, merch, card packs and much more.
All the while holding valuable land in the Bunderworld and controlling the Bad Bunnies game economy. Starting to feel like a Gang Boss yet?
Start your rise to the top so get farming and start earning!